Don't know who Michael Brenner is? Well, he's kind of a big deal.
As a top 5 content marketing influencer, Michael Brenner is the type of writer you'd encounter while reading the most popular marketing blogs before the workday begins.
But now, I want to tell you about some of the brilliant content marketing insights he shared with our team at his Content Marketing Strategy Workshop.
Between building a business case for content marketing, to executing a strategy and measuring ROI, Brenner covered all you need to know about building a content marketing strategy (for the seasoned content marketer and first-timer alike).
So, we took this advice and repackaged it in bite-sized tips below. Enjoy!
1. The difference between content and content marketing is the destination.
At his workshop, Brenner recited a quote by Jay Baer more often than any other: "Don't build your house on rented land"
He's referring to the one element that differentiates content and content marketing, and that is the destination. Brenner reminded us that pieces of content are owned assets. You should therefore be wary about publishing on forums that you do not own, and do not have control over.
Channels like blogs, microsites, and email newsletters belong to you and are directly associated with your brand. Use these owned properties to your advantage.
Publish and disseminate your content on these channels, and build a foundation of trust with your audience by becoming the "go-to" destination for whatever they're looking for. This is content marketing.
2. A successful content marketing plan begins with the foundation.

You see it, don't you? The opportunity for your brand is right there. You're white-knuckled on the steering wheel, ready to produce content, publish it, and attract an audience.
Rein it in, speed racer. Michael Brenner agrees that an ideal content marketing strategy starts at the foundation. So before you start churning out content, establish these fundamentals first:
Audience Insights – Who is your audience? What are their interests? Where do they like to consume content? What are their pain points?
Business Case – What do you hope to achieve with your content marketing?
Budget – How much money do you have allocated toward your content marketing?
Mission Statement – What is your brand's greater content marketing mission?
3. Speaking of a "Mission Statement," you should make one.

Most brands have an overarching mission statement. Many brands do NOT have a content marketing mission statement. Michael Brenner reassured us this is a missed opportunity.
A mission statement for your content marketing strategy achieves two crucial things: 1. It hones the focus of your content marketing, and 2. It forces a discussion around your brand's true identity.
Here's a quick template that you can complete with your team (it's harder than it looks!):
Become the premier destination for [your target audience] interested in [these topics] to help them [customer value].
P.S. What did you team come up with? Share your mission statement with us on Twitter @QuattroPhilly!
4. You need to eat your own dog food to sell your own dog food.

This content marketing tip was simple, but as Michael Brenner demonstrated, not always easy to achieve.
It takes a full on, company-wide commitment to run a truly successful content marketing plan. It requires pure, authentic, and honest content, with buy-in from leadership across your brand's organization.
To that end, Michael Brenner provided a few sample equations to measure the ROI of content marketing, and effectively help communicate the value of content marketing to leadership. Here is one that calculates the return on leads from content marketing:
The Value of Content Marketing Leads = Content Marketing Leads * (Conversion Rate * Avg. Sale Price)
Brenner dives a little deeper on the subject here.
5. Resist the urge to sell in your content marketing.

We've all seen the sales funnel. And if you're a true marketer, you could recite the stages of the buyer's journey from start to finish in five seconds flat.
If that's the case, then why are you still creating so much product and company focused content?
The funnel is shaped the way it is for a reason. Michael Brenner reiterated several times that you should be making more awareness level content. Your audience is bigger at this stage, so the more content that speaks to them, the more likely it you'll be able to lead some of them down the funnel.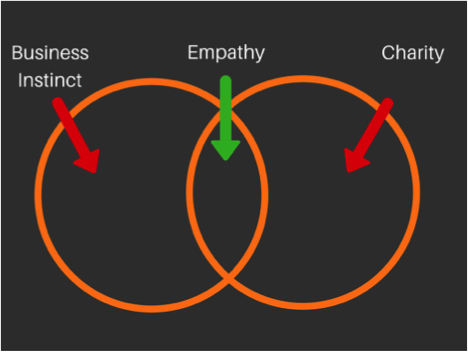 Your content marketing should strike a balance between what your audience wants to see, and what aligns with your business goals. There is certainly a time and a place for sales-related content, but scale it appropriately.
6. Pipe cleaners are still fun to play with.

This isn't really a content marketing tip. Michael Brenner surprised everyone with a bundle of pipe cleaners at each table before the workshop began. His instructions were clear: "Play with them throughout the workshop if it helps you focus."
It did. And it was a blast.
Have any stellar content marketing tips you'd like to add? Drop us a line on Twitter @QuattroPhilly. Tweet away!