Before I die I want to __________________.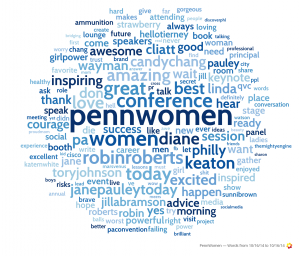 What would your answer be?
October 16th marked the 11th Annual Pennsylvania Conference for Women, uniting 8,000 women together at the Pennsylvania Convention Center. One of the incredible keynote speakers, Candy Chang, served as an inspiration to all attendees with her global "Before I Die" project that showcases stories of hope and community throughout the world.
The ladies of Quattro were honored to attend the conference and take part in a day packed with motivating speakers, panels, workshops and thought-provoking sessions that have left lasting impressions on all of us.
Jane Pauley truly set the stage for the day by leaving us with the following quote at the end of her keynote:
"Inspiration is everywhere but you have to be looking."
Well, Jane, those on Twitter were looking, listening and spreading inspiration globally this year.
Twitter Impact
The event was filled with energy and excitement that was captured on Twitter throughout the day, and there was no shortage of sound bites, opinions and images shared. This social media channel served as a powerful tool for following along with the conversation and extending the conference's reach beyond the convention center.
To fully understand the impact of Twitter at the conference, consider the following data* points below:
There were 9.5 million potential impressions made using #pennwomen in tweets on event day

The hashtag #pennwomen was used over 3,300 times on the day of the event

The top three mentions during the day included @pennwomen, @robinroberts and @candychang, who have a combined following of over 941,000

9amET and 2pmET were the hours of the event with the highest volume of tweets including #pennwomen
The Top Tweets at #PennWomen
Our favorite speaker from last year, Linda Cliatt-Wayman (Principal of Strawberry Mansion High School), was a returning presenter, and to nobody's surprise, her unbelievable story left the crowd in tears yet again, resulting in a huge impact on the social space.

Countless moments and inspiring words were captured through social media; including the top tweets from this year's conference below.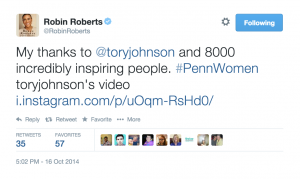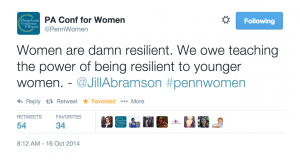 What were your favorites moments from the conference?
*Data points collected from Crimson Hexagon