On your toes, ladies and gentlemen.
Social media features update more often than Lady Gaga changes hairstyles. And nothing proves this more than Instagram's transformative year in 2016.
Over the past year, the platform rolled out a list of new features for its 400 million+ daily users. However, it was the radical rebrand in May 2016 that solidified the most fundamental change: Instagram is not the same animal it was after its birth in 2010.
Many have offered Instagram business tips in response to this evolution. But when it comes to best practices on this channel, what should we believe?
Truth: Instagram is all about

push

pull marketing.
When Instagram announced its shift toward algorithm-based feeds (similar to its parent, Facebook), the world came crumbling down. Or so, that's how people reacted in anticipation.
Now, several months have passed since Instagram Armageddon. And as we climb out from underneath the rubble, we've learned that things are more than just OK. In fact, things are arguably better, especially if you're using an Instagram business account.
Like Facebook, the specifics of the new algorithm aren't public. But according to Instagram, the intention is to serve you the "moments you care about first," because users formerly missed 70% of their feeds on average.
This means the days of traditional push marketing strategies on Instagram are over. Finito.
We need to instead be extra mindful of our niche audiences on this channel, and post content that deliberately speaks to them. A post's visibility is determined by how much your people engage with your content. So get to know who they are, and share with them content that encourages some double-taps.
When you're developing your Instagram marketing strategy, a few things to keep in mind:
Quality over quantity – Posts no longer appear sequentially and audience engagement is more important than ever. Capturing your followers' attention on Instagram depends less on filling your feed throughout the day/week (although timing is still important), and more on sharing content that truly resonates with your niche audience. In fact, quality over quantity is a marketing trend that will dominate in 2017, both on and off Instagram.
Hello, Instagram analytics – Native insights on Instagram business accounts are finally here. Now, let's use them. Although still far behind other platforms like Twitter and Facebook, Instagram analytics offer insight into useful data like top-performing content and best times to post.
Keep the "social" in social media – Engaging with current and potential customers is still the best way to expand and nurture your audience. There's no better way to understand them than to interact with them individually. So explore common hashtags they're using, and start authentically engaging with your audience by leaving comments and likes.
Truth: Instagram's new formats are a creative boon for brands.
And these formats are aplenty.
Brands are using Instagram's new formats to engage with their audiences in new and exciting ways. They've only deepened the level of access people have with their favorite companies, providing fans with a virtual "backstage pass" to view and engage with the content they love.
Here's a quick recap of the recent additions to Instagram's platform, and some stellar inspiration for your next campaign:
Stories
Similar to the Snapchat feature of the same name, these are sequential storyboards of photos and videos users can post that only last for 24 hours.
Zoom
Finally, users can zoom in on individual Instagram posts (rejoice!). Noosa Yogurt used this new functionality in a brilliantly creative way below. Others have taken advantage of the new zoom feature to highlight multiple products in a single post, and even to reveal new offerings in an engaging way.
Multiple images
Users can now post several images in a single post, which appears in a carousel-esque format. Philadelphia's professional soccer team, The Union, had some fun with it. You should too.
Extended videos
Users can now upload videos up to 60 seconds long, much longer than the initial 15-second limit. This expansion opens up huge possibilities for us to tell more immersive stories to our audience.
Check out Urban Outfitters. This 60-second video allows them to introduce their 2017 Spring Collection, tell an engaging story about women skateboarders, and tease an upcoming originally produced docu-series – all in a single post.
Live
Jumping on board with the other major social platforms, Instagram recently rolled out live streaming to its users. Brands and personal brands alike have used it to speak directly to fans, but none have done it better than social media giant, DJ Khaled.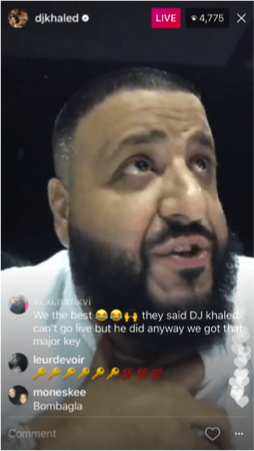 Instagram's creative toolbox has grown. And if the past year is any indication, we can expect even more fun features to play with in the future.
Still, these new formats come with a caution label. And it relates to the one lie too often told about Instagram best practices.
Lie: The perfect picture will propel you to success on Instagram.
It's one thing if people fall in love with your nice photos on Instagram. It's another if they love your pictures, and then build a lasting relationship with your brand on Instagram (that eventually leads to a conversion).
75% of people take action after being inspired by an Instagram post. In order to incite "inspiration," though, we need to connect with our audience beyond the surface level.
There are plenty of resources out there describing what the "ideal" Instagram photo looks like (e.g. images with limited background space generate 29% more likes, and on and on). No doubt, taking great pictures is important. But sharing content that resonates with your target audience is vital.
Amid the barrage of changes occurring to Instagram (and social media in general), this is the one nugget of advice we can always depend on. In the end, its all marketing, and marketing is relationship building.
Still, that doesn't mean we can't have a little fun from time to time…
How are you using Instagram's new features? We love new ideas as much as we love high fives. Let us know what you got on Twitter: @QuattroPhilly.